Joey Armstrong
Welcome to joeyarmstrong.com, a website dedicated to the career and insights of drummer Joey Armstrong and his band, SWMRS.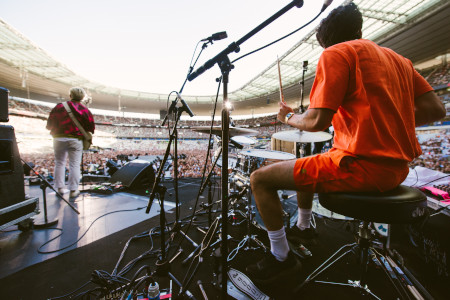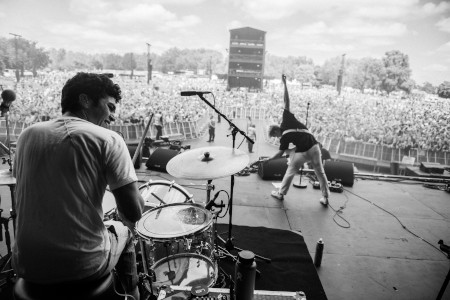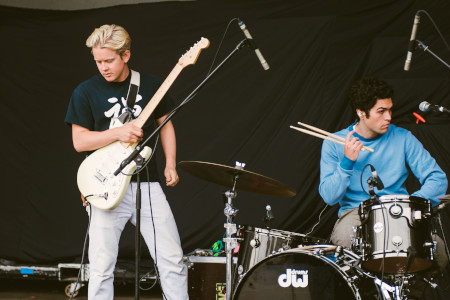 Forming Emily's Army, Early EPs, and Debut Studio Album (2008-2011)
Joey Armstrong and Cole Becker first decided to form a band after being inspired at a young age by the movie School of Rock. Cole's brother, Max Becker, joined the band to play bass soon after, and the group began under the name The Raining Souls. After changing their name to The Clocks, Joey Armstrong and the band decided to change the name once more, as there were many bands with similar names already creating music at the time. The band eventually settled into the name Emily's Army, chosen in honor of Max and Cole's cousin suffering with cystic fibrosis. Emily's Army released a set of songs on MySpace in 2008 in a project titled This Kid.
The band added lead guitarist Travis Neumann to its ranks in 2009, soon following the addition with two EPs, Broadcast This and Regan MacNeil. Both projects further solidified Emily's Army's sound and style as artists. The band began collaborating with Joey Armstrong's father, Green Day front man Billie Joe Armstrong, in winter of 2010 in preparation for the release of their debut album. The project, Don't Be a Dick, was released on June 14, 2011 through Rise Records and Adeline Records. Don't Be a Dick is Billie Joe Armstrong's first credit as a producer, with Armstrong collaborating with Green Day's longtime sound engineer Chris Dugan for the project.
Touring and Second Studio Album (2011- 2013)
Emily's Army performed an East and West Coast tour off of the success of Don't Be a Dick in 2011, additionally playing numerous underground punk shows throughout late 2011 and early 2012. Later in 2012, the band began touring once more, performing shows at Warped Tour and at various venues along the West coast. Emily's Army collaborated with Bille Joe Armstrong again in 2013 to release their second studio album, Lost at Seventeen, through Rise Records and Adeline Records. The reception that the record received led to Emily's Army playing at several events as well as performing a tour through Great Britain. Bandmembers also took time to release side projects, with Joey Armstrong, bandmate Seb Mueller, and a few friends formed DDG to release the EPs Fact Check and A DDG Christmas through Bandcamp in 2013.
Swim EP, SWMRS Rename (2014-2015)
The band began working on new material in 2014, releasing the EP Swim in July of that year. The EP is the last project released by the band under the name Emily's Army, and the collective changed their name to Swimmers in late 2014, before settling on SWMRS in 2015. The EP is also the last in the band's discography to feature Travis Neumann as lead guitarist as well as the Max Becker as bassist. After Neumann's departure from the band, Max switched to cover the role of lead guitarist. Swim was also a departure from the band's previous sound. While some earlier releases in their discography were compared to punk acts such as Green Day, Swim has been described as the first to feature a beach pop and power pop sound.
Miley/Uncool and Drive North (2015-2016)
In 2015, Joey Armstrong and SWMRS released several songs on Soundcloud in preparation for a new project. The band later released "Miley" the EP's first single from their EP Miley/Uncool September 7, 2015. This coincided with a burst of popularity for the band, who began to receive more media coverage due to the popularity of Miley. Off the success of the EP, SWMRS announced their album Drive North, due to release on November 6, 2015 alongside the release of the single "Figuring it Out". SWMRS released the album four months later through Uncool Records. The release, like many of SWMRS's other projects, marked change for the band. It was the first album in their discography to feature Seb Mueller on bass as well as the first to include Mac Becker as guitarist rather than bass. Drive North was also the band's first independent release through their own label, Uncool Records, and the first studio album to not be produced by Billie Joe Armstrong. After SWMRS signed to Fueled by Ramen, the record was re-released on October 13, 2016.
Side Projects and Berkley's on Fire (2017-2019)
Joey Armstrong and the other members of SWMRS worked on various side projects and features between the release of Drive North and their next album. For example, Joey Armstrong and Seb Mueller collaborated with Joey's younger brother Jakob Danger to form Waterloo Teeth, releasing Self-Titled EP through Uncool Records. Joey Armstrong was also featured on projects such as The LongShot's Love is for Losers and Make Room by Destroy Boys in 2018. SWMRS released Berkeley's on Fire, their second album since their rename, on February 15, 2019. The album was almost unanimously praised, with many critics citing that the band had matured and solidified their sound notably since the release of their first record.
In addition to musical pursuits, Joey Armstrong and SWMRS have organized SWMRS Fund, dedicated to supporting organizations that are working on the frontlines of various pressing issues. SWMRS Fund beneficiaries include Climate Justice Alliance (CJA), Girls Rock Camp Alliance, the National Bail Fund Network, and Third Wave Fund. SWMRS also actively participates in Pipeline to a Cure for Cystic Fibrosis, a nod to their previous namesake Emily's Army. The band realizes that now, more than ever, we have a duty to uplift those that have found themselves disenfranchised in the current system.
Joey Armstrong acknowledges the impact that mentors in the music industry can have on a musician's career starting out and has always been a proponent of sharing insights and tips for those that are beginning their path. To this point, he wants this website to act as a resource for people hoping to learn more about the music industry. Drawing from his past experiences as a recording artist and record label owner, Joey Armstrong will update with future posts such as how an independent artist can cheaply and effectively handle distribution of their work, songwriting tips, and how an artist can wade through writer's block and creative slumps.