SWMRS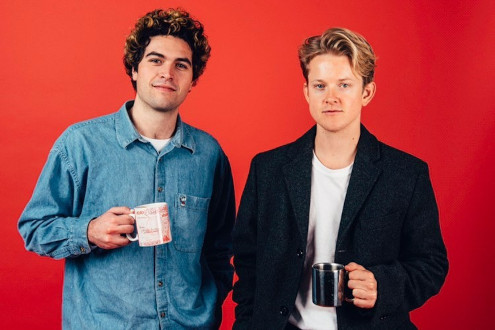 In a world of solo artists and mechanized music production, bands are increasingly anomalous. The familial bond it requires to make music with a group of people is hard to develop and even harder to maintain. One's personal interests are levied against another's and things tend to fall apart, lineups change, and bands end up becoming project names for a nebulous founding member turned bedroom producer. SWMRS (pronounced "swimmers") is a band in the truest sense of the word; a group of four friends bound together by a sense of brotherhood and a love of music. Formed in the San Francisco Bay Area by childhood friends Cole Becker, Max Becker, Joey Armstrong, and Seb Mueller, the band was initially inspired equally by the Clash and the Beach Boys, but has since developed an original punk sound with honest songwriting, creative production, and exciting musicianship.
In 2015, the band wrote the music for Saint Laurent's "Surf Sound" fashion show in Paris. That summer they recorded their first album Drive North with producer Zac Carper of Fidlar, a clear sonic departure from their work in previous band Emily's Army. The album was released in February 2016 to acclaim from Rolling Stone, Teen Vogue, Thrasher, and Women's Wear Daily, and earned them TV spots on the Late Late Show with James Corden, Le Petit Journal, and MTV Wonderland. As their momentum picked up, the band hit the road and played over three hundred shows all over North America, Japan, the United Kingdom, and Europe in the two years following Drive North's release.
With their sophomore album Berkeley's On Fire, produced by Rich Costey (Muse, Death Cab, Interpol), the band made even greater strides. The album premiered in early 2019 on Annie Mac's BBC Radio 1 show, and several singles quickly became fixtures of British and European radio. The band's star was clearly rising as they appeared on the covers of Kerrang!, DIY, Alternative Press, and Dork magazines, and earned the Best New International Band prize at the Kerrang! awards. That summer they played the main stages at Reading and Leeds festival in the UK, Hurricane Festival in Germany, ParkLive festival in Russia and Ukraine, and opened for Muse in front of 80,000 people at Paris' Stade de France.
No good story is devoid of tragedy. On October 30th, 2019, guitarist Max Becker survived a near fatal car crash in which he was ejected from the band's sprinter van en route to a show in Denver, Colorado. Becker sustained dozens of orthopedic injuries and a traumatic brain injury that would require at least a year of rehabilitation. In February 2020, As Becker stayed home in recovery, the band played their final shows before the COVID-19 pandemic opening for Cage The Elephant in Europe. While the adventure they were living before the car crash and the pandemic is on indefinite pause, the band members are pushing themselves creatively, strengthening their relationships with one another, and waiting patiently for the return of live music. When the time comes, SWMRS will be ready.